The Greenest
12-15 Seconds Drying Time
No Dedicated Line Required
Connect up to 3 Dyers at One Time!
5-Year Limited Warranty
Exceptional Value & Performance
Maintenance-Free
Vandal Resistant Design
540 Watts

The eXtremeAir is the high speed hand dryer for the next generation. The patented design of the eXtremeAir eXt series is the first and only high speed hand dryer to reduce power consumption to an industry-leading 540 watts of electricity. That's up to 3 X Less Power than other "green" hand dryers.

Construction Features -
Most Compact high performance hand dryer in the industry. It's 43% smaller than old "industry standard" high speed dryers; yet, it's just as powerful and uses less
electricity.

VANDAL RESISTANT – Two tamper resistant screws secure the heavy duty vandal resistant cover to the steel base. Motor and heater are inaccessible to vandals. Air intake is shielded for additional safety.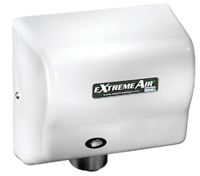 HEAVY DUTY ONE-PIECE COVER OPTIONS –
Flame retardant white ABS
Steel with white epoxy finish (M)
Steel with satin chrome finish (C)
Motor – Powerful series commutated through-flow discharge vacuum motor/blower with automatic resetting thermal protector. 5/8 HP, 24,000 RPM.

Automatic Sensor – RoHS compliant lead-free design. Microprocessor controlled infrared sensor turns dryer on when hands are under the outlet for up to 80 seconds.

Heating – uses motor heat to efficiently raise the air temperature to 95˚ F.

Warranty – 5-year limited warranty with same-day factory repair or shipment of replacement parts.

Dimensions: Surface: 10-1/8" W x 9-3/8" H x 5-5/8" D
Mounting Heights: Men 44"
Women 42"
Children 32-42"
Handicapped 36"
SHIPPING WEIGHT: eXt 9 lbs, eXt-M/C 10 lbs